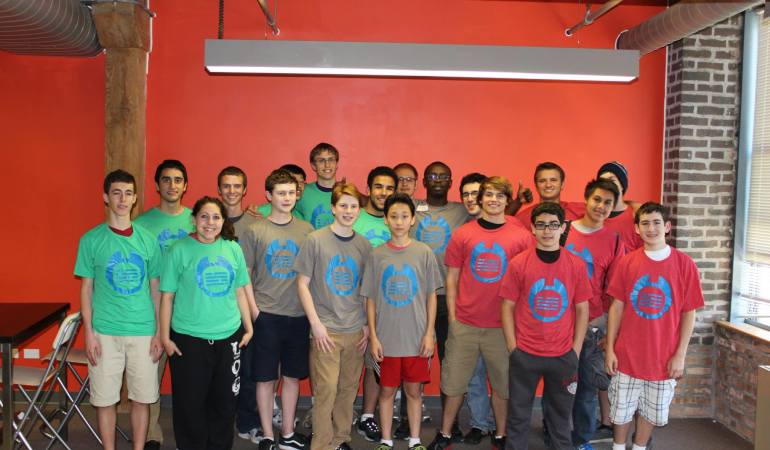 CodeDay Spring 2014
CodeDay Chicago was amazing!
I'm still trying to process what happened this past weekend. It all happened so quickly. For those of you that don't know about CodeDay, CodeDay is an event/time period where middle school, high school and college students have 24 hours to build whatever they want. Students don't usually have time to build the things they want and CodeDay is a solution to that problem.
P.S. I'm immensely sleep deprived (at the time of this writing) so excuse me, if it's convoluted.
CodeDay was held in 26 different cities this past weekend but I had the amazing opportunity of organizing CodeDay Chicago and CodeDay Detroit. I attended the Chicago event so I can't really speak for the Detroit or any other CodeDay event but I don't doubt it was an amazing experience for everyone involved. I had the chance of bringing 12 students from my school and they all absolutely loved it. CodeDay isn't about competition. It's about building, learning and meeting new people. The projects people made at CodeDay shows that.
CodeDay starts like any other event. We have an opening ceremony, we have sponsors speak about what they do and people pitch about ideas they want to build in order to form teams. We had different ideas ranging from tic tac toe on a 20x20 tile to an app that detects if you're listening to Drake and doesn't allow to use any social media until an hour after you've last listened to Drake to an app that allows people to challenge each other for money. We also had a Twilio developer give a 5 min presentation on Twilio at the beginning of the event.
All through the event, spirits were high and people were focused on the things they wanted to build. The energy at the event was immense. Amelia, a CodeDay evangelist from Seattle, was of immense help. Running two CodeDay events in two different cities was not as easy as I thought so shout out to her. All throughout the event people were happy and energetic. People stayed on task and weren't messing about. I don't even think I had to tell anyone to focus on building something.
We were in a "war" with CodeDay Portland to see which one was the better CodeDay. In the end we won, because we got a response from the one and only Wil Wheaton.
You can check out the tweet here if you don't believe me.
My favorite part was when one of the participants, Matt, drew a portrait of me on a dry-erase board. I think it was pretty awesome.
Around 2am, in order to keep people going, we took everyone on a walk around downtown Chicago and even visited 1871. Well, not really. Security turned us back.
After we got back from our adventure, we ended up having a karaoke event which led to the ultimate final of everyone singing Let It Go from Frozen. Around 5:30-ish in the morning, the sun started to rise and we began the countdown to the finish.
I slept till who knows when because when I woke up, the sun was up and there was breakfast from Dunkin Donuts.
Around 9, we had our judges show up. Lance Ennen from Big Astronaut, one of our sponsors, and Greg Baugues from Twilio, who ended up being another sponsor. They were awesome. Around 10, we got to the presentations. I don't really remember some of the presentations but I do remember the winners.
These three kids all in middle school built an app called iRec. They won "Most Techincally Impressive." iRec is an app that allows you to record the screen of your iPhone and replay it back. Non jailbroken and completely native. Built by James, Colton, and Justin.
The next winners were the winners of "Best Hack using Twilio." The project was called Text Adventure where you would go through an adventure and you would text your decision which was how you would progress through the game. Like old school text adventure games but instead of playing it through the command line, you're playing it through SMS. It was built by Tripp and his team.
There was another honorable mention but I can't put my finger on it.
Now it comes to our top winners which would win the awards of "Best Game", "Best Application" and "Top Overall."
Winner of best game was Limit built by Henry, Jacob, Stefan and Niraj. Limit is a 20x20 multiplayer tic tac toe game that was just absolutely nuts. You can try the demo here but you need 4 people to play so get your friends to play or you might be waiting a while.
Winner of Best Application was Notefeed. Notefeed is an app that allows students from schools to subscribe to notes of students at other schools. So say for instance, if your school doesn't have AP Chemistry, you could subscribe to a student who takes AP Chemistry at a different school. That student then uploads his/her notes online for you to view and follow along with so when AP testing time comes, you'll be prepared to take the test even though you haven't taken the class. It's really neat. It was built by Yasha and his team using Meteor.js.
Last but not least is the winner of Top Overall. *drum roll* And the winner is Challenge Accepted. Challenge Accepted is an iOS app and soon to also be Android app that allows someone to submit a challenge and put on a bounty on it. Another person can then choose to accept that challenge and must prove they completed the challenge by posting a YouTube video of themselves completing the challenge. It was a really neat app. It was built by Raphael, Ricky, Jenni and Jake.
I have no doubt other CodeDay events were as fun as CodeDay Chicago was. Something of the things I heard that were created were just purely awesome. Like CodeDay Boulder ordering food through pull requests on Github and Twerkometer at CodeDay Seattle. If you are reading this and you've never been to a CodeDay, if you ever have the chance, go. Don't think about it, just go.
I would like to thank the 60 or so students who showed up to the event. Huge thanks to Big Astronaut, Twilio, and Dev Bootcamp for sponsoring the event and believing. I would like to thank Pizano's and Chipotle for lunch and dinner. Huge thanks to Amelia who flew all the way from Seattle to be part of the event and helped out in many ways. I can't thank her enough. I'd like to thank StudentRND for giving me the opportunity to organize CodeDay. Big shoutout to Ed and Tyler for always answering any questions I had. Also a thousand thanks to Anay and Mark for helping organize the event and helping out anyway they could.
My name is Fisher and if you'll indulge me, I'd like to get some sleep, keep coding and keep doing what I love.